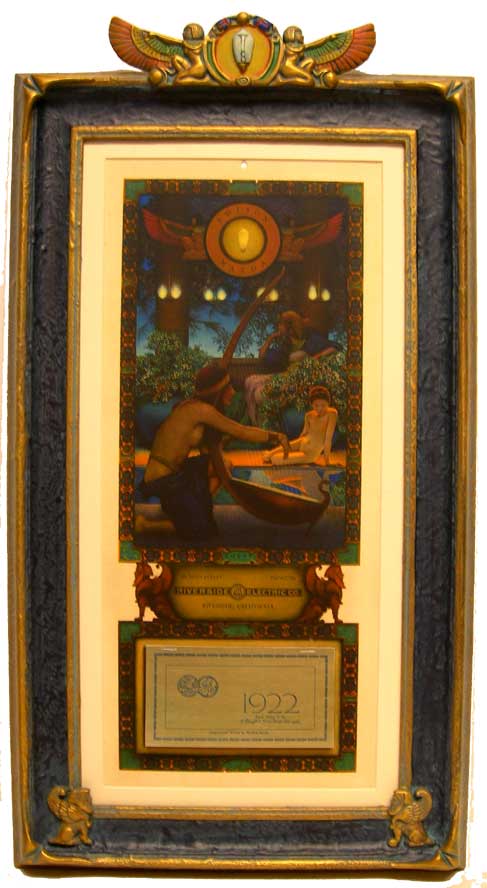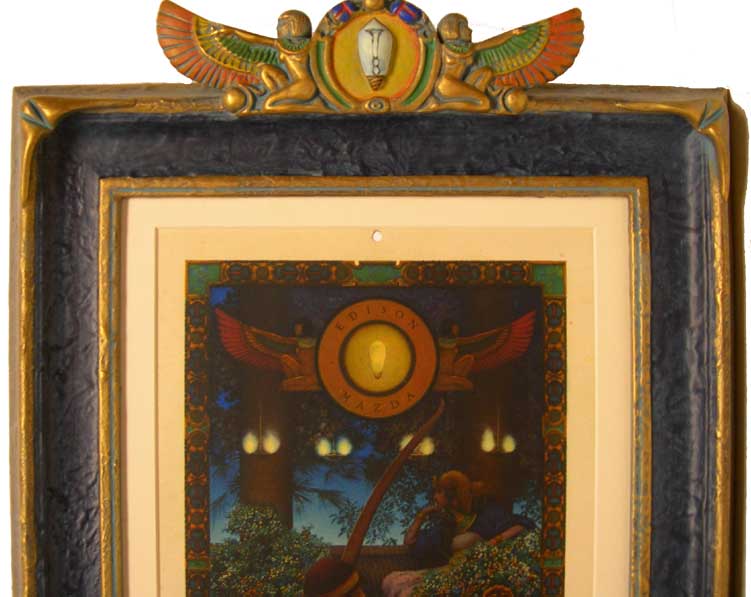 A Gem, Complete Small Size Edison Mazda Ad Calendar with Full Pad.
This is the First Time this item has Been Framed.
These Calendars with Quality Colors with Full Pads are getting harder to find every day.
Crowned with a Detailed Logo from the Calendar, as well as two Griffins at each of the lower corners.
It is painted to match the Beautiful Hues of this Extremly Rare Image.
It has Acid-Free Backing Products and U. V. Conservation Glass to protect it from further aging.
Frame Opening Size is: 9" x 19.5"
A thin Acid-Free Mat has been put over the edges to keep the pad from touching the glass.
Overall Size is roughly 12.5" x 23.5" including the Crown.
This Unique piece will be a Proud Addition to the Collection of
any True Maxfield Parrish Connoisseur!
This Rare Item is Fairly Priced at
$2950 + $60 toward Shipping, Insurance, & Handling.
(I will pay the balance and there will be one.)
THIS FRAME IS ALSO AVAILABLE BY ITSELF. WE CAN FIT YOUR CALENDAR FOR YOU.
Call for more information: 206-979-2109.
*   *   *
To purchase this piece, you may email Stephen at:  
dreamgardener49@aol.com.
To get a faster response, put the words "Maxfield Parrish" in the subject line.
Or, you may give him a call on his cell phone:  
206-979-2109.