~ FOR SALE ~
Maxfield Parrish
"OLD KING COLE"
Pristine Mint Large Art Print

Printed in the 90s in Limited Quanities For The
Pennsylvania Academy of Fine Arts.
From the Mural at the Pennsylvania Academy of Fine Arts from a Painting
by MAXFIELD PARRISH in 1894.

THIS IS NUMBER 4 of Only 15 FRAMED IN A UNIQUE HANDMADE CUSTOM
PERIOD STYLE TRIPTYCH FRAME.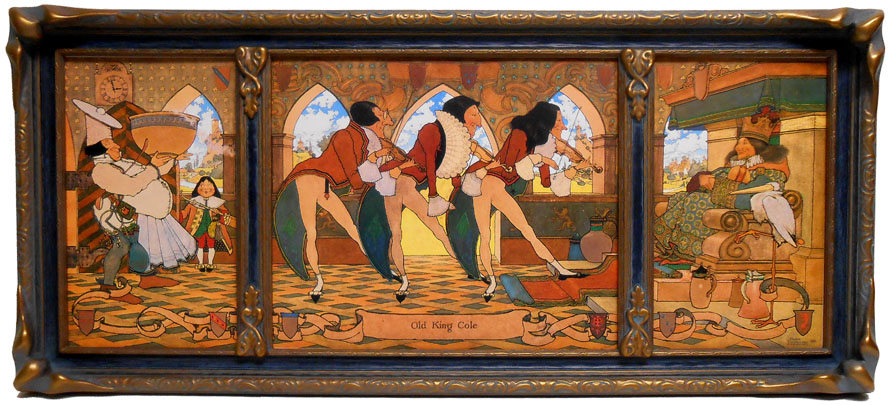 Vibrant, Original Uncirculated Colors.
See Close-Ups, for Vibrant Color and Frame Details.

CRISP UNCIRCULATED CONDITION.

THIS IS THE FIRST TIME IS ITEM HAS BEEN FRAMED!

Approx. Overall Size: 15" x 32".

THIS IS A TRUE RARE SHOWPIECE FOR THE TRUE PARRISH CONNOISSEUR
WHO ONLY DESIRES ONLY THE FINEST!

This is the Only Color printing of this image in Art Print Form.

Acid-Free Backing and U. V. Conservation Glass have been used to protect it from further aging.
This Unique Original Showpiece is Fairly Priced at
$599 + $37 For Shipping, Insurance and Handling.
(Foreign Buyers Prepay All Shipping Costs)
If you are interested in this piece and/or have any questions about it,
please email Stephen Hutak at:&nbsp dreamgardener49@aol.com
---