~ For Sale ~
Maxfield Parrish Mazda Complete Calendar

"Solitude" - 1932
Vibrant, Mint Colors,
with Crisp Overall Condition,
& Full Calendar in a Unique Custom Detailed Period Frame
Printed by Forbes Litho Co. for Edison Mazda Lamp Works/GE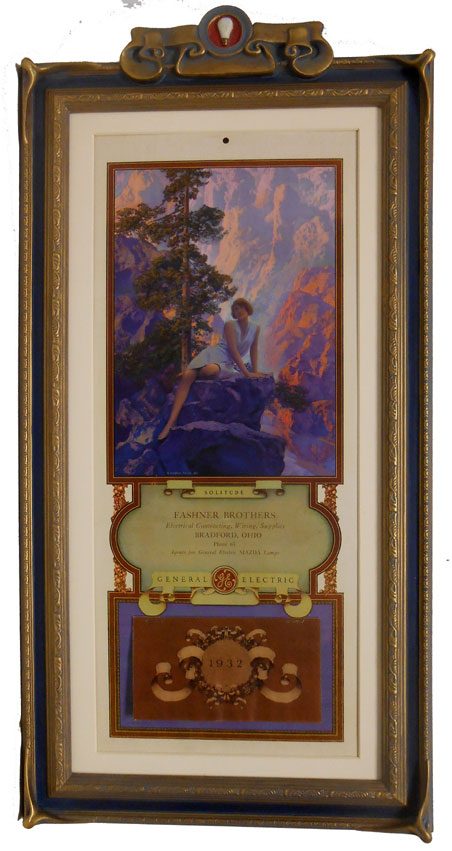 Complete Small Size Edison Mazda Ad Calendar with Full Pad.

Rare, Vibrant, Crisp, Mint Colors and Crisp Condition, with only light signs of handling, as Shown.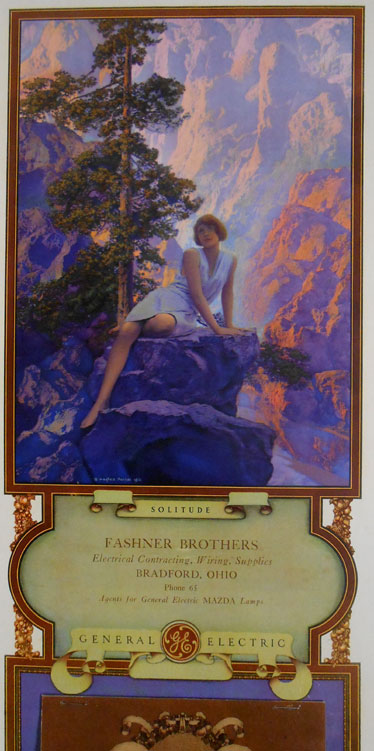 This is the first time this piece has been framed.

Acid-Free backing products and U.V. Conservation Glass have been used to protect it from further aging.

Approx. Opening Size 8.5" x 19.25"

Overall Size roughly 11.25" x 22." (not including Crown)

This piece will be a proud addition to the Collection of any true Maxfield Parrish Connoisseur!
Price $985 + $35 Shipping, Insurance, Handling
If you wish to purchase this piece or have any questions about it refer to Item No. MC-222,
& contact Steve at: dreamgardener49@aol.com
---
Home | Magazine Ads | Mazda Calendars | Period Frames
Frame Restoration | Payment Options | Frame Gallery
Other Artists | Landscapes | Appraisals
Art Prints | Posters | Etc.